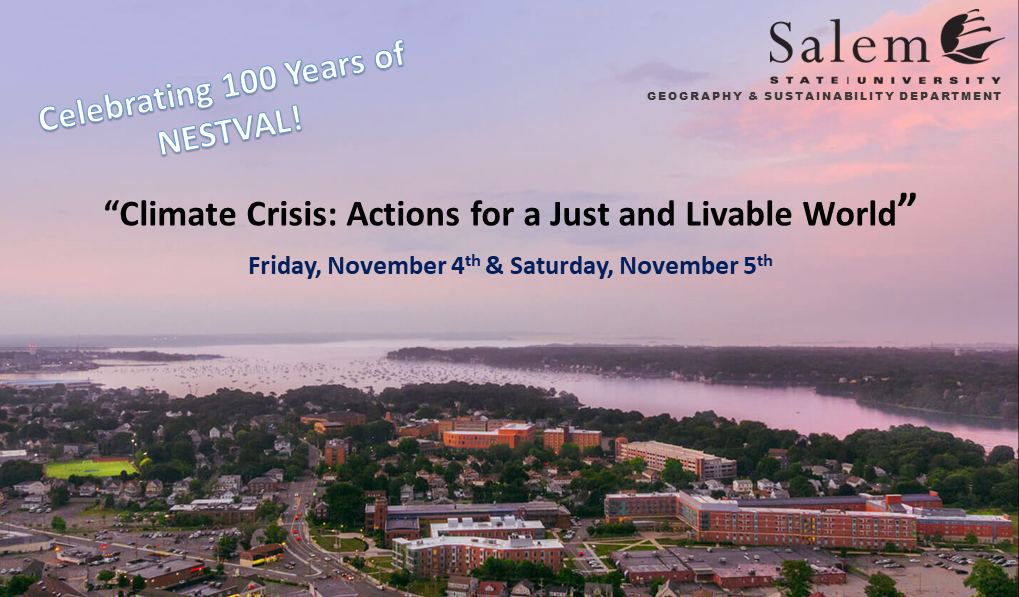 The NESTVAL'22 Program is LIVE!

View the Online Program here: https://aag-meetings.secure-platform.com/regional_meetings/solicitations/42/sessiongallery/schedule You must be registered for the conference to view the above link – If you are not registered and want to see the submitted abstracts, please register below.Saturday's paper sessions and plenary speaker will be streamed for registered particpants via Zoom, the links will be available in the Session Gallery/Schedule by Friday, November 4th.

For those not registered, Submitted abstracts can be seen here: https://aag-meetings.secure-platform.com/regional_meetings/gallery?roundId=59


Conference Registration
- New users, please create an account to register for the conference. Returning users, use your AAG login from past conferences.
- Online Registration Only. To save time, please register before coming to campus. We cannot accept checks or cash at the conference.
- Please register early so we will have an accurate food count.

The Paper/Poster Submittal website is closed, please contact Kym if you need to edit your abstract, title or keywords.
- Please note that all presenters are expected to be at the conference in person unless prior arrangements have been made. If you plan to present a paper remotely, please email Kym to arrange.
- Students may upload PDFs of their posters here to the AAG/NESTVAL conference website for online viewing and inclusion in the AAG/NESTVAL Session Gallery.
- Sorry, we are unable to display remote posters at the conference.
Our Plenary Speaker is retiring SSU faculty member and NESTVAL member Stephen Young, his talk title is: "Climate Change in New England: An Uncertain Future."
Professor Young is a former chair of the Department of Geography at Salem State University where he uses remote sensing (satellite imaging) to analyze climate change and deforestation. He received his Ph.D. in geography from Clark University, a master's degree in environmental science from Yale University and a B.A. in environmental studies from the University of Vermont. His geographic areas of expertise include northeastern North America and China. In addition to his academic research, he bridges the arts and sciences through art gallery exhibitions which try to expose the public to science and geography. In the summer of 2015 his exhibition Macro or Micro? (with Salem State University Biology professor Paul Kelly) was on display at the Museum of Science in Boston, MA and at the Sazmanab Institute of Contemporary Art in Tehran, Iran.
Driving & Parking
Please set your GPS to: 352 Lafayette Street, Salem, MA 01970 or click here for directions

Parking is available off of upper College Drive (Entrance from Lafayette St only) and behind the Parking Garage (Enter from Lafayette St or Rt 1A/Loring Ave).
All Nestval Events will take place on North Campus: #6 - Meier Hall and #10 - Ellison Campus Center

On Campus? Find your live location on a map, navigate campus and get in-depth descriptions of all locations with our mobile YouVisit tour.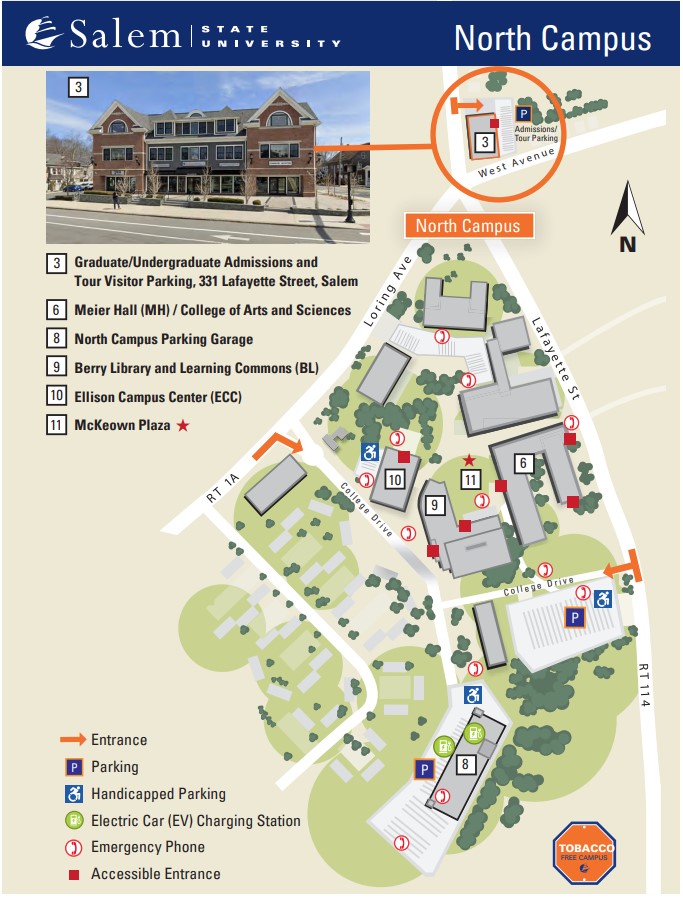 Printable PDF of North Campus
Printable PDF of all SSU Campuses

Schedule
Friday, November 4th
2:30 - 6:30
Registration (Lobby, Ellison Campus Center)
2:30 - 3:00
Pizza for World Geography Bowl Participants (MLK Room, Ellison Campus Center)
3:00 - 5:30 
World Geography Bowl  (Meier Hall)
5:30 - 6:00
Bowl Awards/Social Hour (MLK Room, Ellison Campus Center)
6:30 - 8:00
NESTVAL Business Meeting/Dinner (MLK Room, Ellison Campus Center)

Saturday, November 5th
All rooms are in the Ellison Campus Center
7:45 - 11:30
Registration (Lobby)
8:15 - 8:40
Welcome Coffee and Pastries  (MLK Room)
8:40 - 10:00
Climate Change I (Underground Room)
GIS and Geospatial Applications (MLK Room)
10:00 - 10:10
Break
10:10 - 11:30
Poster Session* (Vet's Hall)
11:40 - 12:00
Lunch  (Vet's Hall)
12:00 - 1:20
Plenary Speaker  (Vet's Hall)
1:30 - 2:50 
Climate Change II (Underground Room)
Regional Geographic Analyses (MLK Room)
2:50 - 3:00
Break
3:00 - 4:20
Geographic Education (MLK Room)
The Blue Economy (Underground Room)
4:45 - 6:15
Walking Tour of Salem 
* Uploaded students' posters will be available on the AAG/NESTVAL Session Gallery



Salem is very busy this time of year, so please book your hotel ASAP if you would like to stay in the area.
In the area:
Best Western Danvers, 50 Dayton St, Danvers, MA 01923
Must book before October 20th
$89 per night king or double
Call (978)777-1700 and Book Under NESTVAL Room Block
To stay closer to SSU:
Hampton Inn by Hilton Salem Boston,11 Dodge St, Salem, MA 01970
Must book before September 23rd
November 3 - $219/night
November 4/5 - $349/night
Booking Link: https://www.hilton.com/en/book/reservation/deeplink/?ctyhocn=BOSSAHX&groupCode=CHHNST&arrivaldate=2022-11-03&departuredate=2022-11-06&flexibleDates=true&cid=OM,WW,HILTONLINK,EN,DirectLink&fromId=HILTONLINKDIRECT

Organizing Committee:  
Professor Keith Ratner: kratner@salemstate.edu
Professor John Hayes: jhayes@salemstate.edu
Professor Lorri Krebs: lkrebs@salemstate.edu
Kym Pappathanasi: kym@salemstate.edu
Geography and Sustainability Department, Salem State University
Salem, Massachusetts 01970 USA